Skip to end of metadata
Go to start of metadata
Product overview
Rationale
Where the final amount will exceed or is likely to exceed the amount of the pre-authorization (including any scheme allowed percentage variation), a further incremental authorization may be obtained. The incremental authorization will be for the difference between the original pre-authorization and the actual or estimated final amount. The sum of all linked estimated and incremental authorizations represent the total amount on hold in the cardholder's account for a given transaction.
By using incremental authorizations merchants can ensure the cardholder's open-to-buy accurately reflects their transaction activity.
Industries
Incremental (multiple) authorizations were available to merchants in the travel and entertainment industry such as hotels and car rentals:
| MCC | Industry |
| --- | --- |
| 3351-3441 | Car Rental Agencies |
| 4411 | Cruise Lines |
| 3501-3999 | Hotels/Motels/Resorts |
| 7011 | Hotels/Motels/Resorts – not elsewhere classified |
| 7512 | Automobile Rental Agency – not elsewhere classified |
Effective October 14, 2016 MasterCard made incremental authorizations available to all merchant types.
Schemes
| Brand | Incremental Authorization |
| --- | --- |
| VISA | Yes |
| MasterCard | Yes |
Acquirer via GICC
| Brand | Incremental Authorization |
| --- | --- |
| Elavon Europe | Yes |
| ConCardis | Yes |
Authorization Validity
The 30 day chargeback protection timeframe is calculated from the date of the last approved authorization. Thus, an incremental authorization may be submitted to extend the chargeback protection period for the same transaction. 
Message Flow
A regular incremental authorization sequence consists of three parts:
The original pre-authorization itself
An incremental transaction with an amount update to add to the original pre-authorization amount
At a later time a capture transaction referring to the incremental transaction
Reversals
If an incremental authorization is being reversed, the amount being reversed is just that of the increment. A pre-authorization for the original amount will exist at the host (if it has not expired). Please note that to date it is not possible to reverse a pre-authorization and all its increments in one message. Each increment must be reversed individually starting with the latest incremental transaction before the original pre-authorization can be cancelled.
Card Authentication and Cardholder Verification
All pre-authorizations and incremental authorizations must occur online and if it is an EMV transaction it has to supply full EMV data for the transaction. The incremental transaction might be a 'card-present' or a 'card-not-present' transaction. Therefore it is possible or even likely that the initial preauthorization is an EMV transaction but not the increment. This is permitted as it can be assumed that card authentication and cardholder verification were perused in the initial pre-authorization.
Message Linking
For a given transaction, the original authorization request, the incremental authorization requests, and the reversal request are linked together by unique values referred to as tracing data. For Paygate merchants this link will be established towards the acquirer automatically through the PayID.
Process flow chart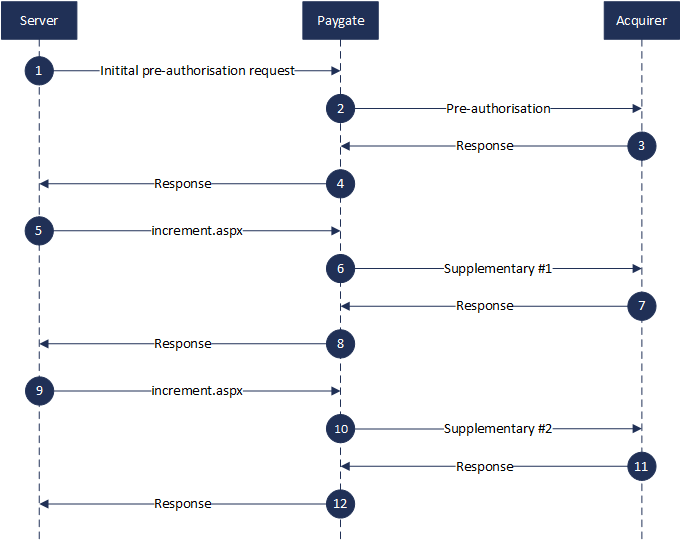 Incremental authorization process flow
Computop Paygate interface
Definitions
Data formats
| Format | Description |
| --- | --- |
| a | alphabetical |
| as | alphabetical with special characters |
| n | numeric |
| an | alphanumeric |
| ans | alphanumeric with special characters |
| ns | numeric with special characters |
| bool | boolean expression (true or false) |
| 3 | fixed length with 3 digits/characters |
| ..3 | variable length with maximum 3 digits/characters |
| enum | enumeration of allowed values |
| dttm | ISODateTime (YYYY-MM-DDThh:mm:ss) |
Abbreviations
| Abbreviation | Description | Comment |
| --- | --- | --- |
| CND | condition | |
| M | mandatory | If a parameter is mandatory, then it must be present |
| O | optional | If a parameter is optional, then it can be present, but it is not required |
| C | conditional | If a parameter is conditional, then there is a conditional rule which specifies whether it is mandatory or optional |
Notice: Please note that the names of parameters can be returned in upper or lower case.
Call of interface for incremental authorisation
 To carry out an incremental authorisation via a Server-to-Server connection, please use the following URL:

Notice: For security reasons, Computop Paygate rejects all payment requests with formatting errors. Therefore, please use the correct data type for each parameter.
The following table describes the encrypted payment request parameters:
| Key | Format | CND | Description | Beschreibung |
| --- | --- | --- | --- | --- |
| | | M | MerchantID, assigned by Computop. Additionally this parameter has to be passed in plain language too. | HändlerID, die von Computop vergeben wird. Dieser Parameter ist zusätzlich auch unverschlüsselt zu übergeben. |
| Key | Format | CND | Description | Beschreibung |
| --- | --- | --- | --- | --- |
| PayID | | M | ID assigned by Paygate for the payment, e.g. for referencing in batch files as well as for capture or credit request. | Vom Paygate vergebene ID für die Zahlung; z.B. zur Referenzierung in Batch-Dateien sowie im Capture- oder Credit-Request. |
| Key | Format | CND | Description | Beschreibung |
| --- | --- | --- | --- | --- |
| TransID | | M | TransactionID provided by you which should be unique for each payment | Ihre eigene TransaktionsID, die für jede Zahlung eindeutig sein muss |
| Key | Format | CND | Description | Beschreibung |
| --- | --- | --- | --- | --- |
| Amount | | M | Amount in the smallest currency unit (e.g. EUR Cent). Please contact the Computop Helpdesk, if you want to capture amounts <100 (smallest currency unit). | Betrag in der kleinsten Währungseinheit (z.B. EUR Cent). Bitte wenden Sie sich an den Computop Helpdesk, wenn Sie Beträge < 100 (kleinste Währungseinheit) buchen möchten. |
| Key | Format | CND | Description | Beschreibung |
| --- | --- | --- | --- | --- |
| Currency | | M | Currency, three digits DIN / ISO 4217, e.g. EUR, USD, GBP. Please find an overview here: A1 Currency table | Währung, drei Zeichen DIN / ISO 4217, z.B. EUR, USD, GBP. Hier eine Übersicht: A1 Währungstabelle |
Key
Format
CND
Description
Beschreibung
M

Hash Message Authentication Code (HMAC) with SHA-256 algorithm.

Details can be found here:

Hash Message Authentication Code (HMAC) mit SHA-256-Algorithmus

. Details finden Sie hier:
| Key | Format | CND | Description | Beschreibung |
| --- | --- | --- | --- | --- |
| Duration | n2 | C | Indicates the additional number of days to be added to the stay or rental. Valid only for merchants operating in specific industries like Hotel/Car rental. | Gibt die Anzahl zusätzlicher Tage an, die für den Aufenthalt oder die Miete hinzugefügt werden sollen. Nur für Händler in bestimmten Branchen wie Hotel/Autovermietung gültig. |
Parameters for incremental authorisation
The following table describes the result parameters with which the Computop Paygate responds to your system
pls. be prepared to receive additional parameters at any time and do not check the order of parameters
the key (e.g. MerchantId, RefNr) should not be checked case-sentive
Response parameters for incremental authorisation