Skip to end of metadata
Go to start of metadata
Über S2S Blacklist Editing im Paygate
Allgemeines zu Server-zu-Server Blacklist Editing
Geltungsbereich: Bisher kann eine Blacklist nur per Analytics oder über Merchant Services bearbeitet werden, wobei dieser Prozess leider langsam und zeitaufwändig ist. Händler, die eine große Anzahl von Transaktionen bearbeiten müssen oder sofortige Kontrolle inklusive einer Bestätigung der Aktualisierung benötigen, fragten diese neue Funktion im Paygate an. Computop bietet nun die Möglichkeit, eine Blacklist über eine Server-zu-Server-Verbindung zu bearbeiten.
Integration: Ein Händler sendet eine Anfrage an blacklist.aspx mit den üblichen Parametern wie MerchantID, Data und Length. In den verschlüsselten Daten muss ein Parameter EventToken für Insert, Update oder Delete sowie ein Parameter BlackListInfo mit allen Informationen über das Blacklist-Element enthalten sein. Der Wert von BlackListInfo ist ein JSON-String. Das Paygate prüft zuerst, ob der Händler für eine solche Anfrage berechtigt ist. Je nach Ergebnis erzeugt es ein Objekt BlackListInfo und kann die Aktion Einfügen, Aktualisieren oder Löschen in der Blacklist-Datenbank ausführen. Der nächste Schritt ist die Antwort vom Paygate an den Händler. Es gibt den Parameter Status, der die Werte OK oder FAILED haben kann. Im Falle von OK gibt es auch einen Parameter BlackListInfo, der alle Blacklist-Informationen als JSON-String liefert. Im Falle von FAILED gibt es einen Parameter Description, der einen Grund für das Scheitern der Anfrage angibt.
Um eine Karte gleichzeitig auf mehreren MerchantIDs zu sperren, dafür aber nicht pro MerchantID einen Request senden zu müssen, gibt es die Möglichkeit, eine Master-MerchantID und diverse Sub-MerchantDs zu definieren. Es reicht dann, wenn Sie einen Request auf die Master-MerchantID mit den notwendigen Daten senden. Die Sperre greift dann auch gleichzeitig auf allen Sub-MerchantIDs.
Falls Sie sich für diese spezielle Funktion interessieren, setzen Sie sich bitte mit unserem Merchant Support in Verbindung, damit die notwendige Konfiguration besprochen und vorgenommen werden kann.
Diagramm zum Prozessablauf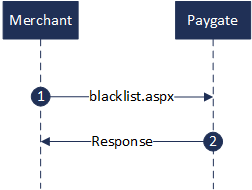 Prozessablauf S2S Blacklist Editing
Definitionen
Datenformate:
| Format | Beschreibung |
| --- | --- |
| a | alphabetisch |
| as | alphabetisch mit Sonderzeichen |
| n | numerisch |
| an | alphanumerisch |
| ans | alphanumerisch mit Sonderzeichen |
| ns | numerisch mit Sonderzeichen |
| bool | Bool'scher Ausdruck (true oder false) |
| 3 | feste Länge mit 3 Stellen/Zeichen |
| ..3 | variable Länge mit maximal 3 Stellen/Zeichen |
| enum | Aufzählung erlaubter Werte |
| dttm | ISODateTime (JJJJ-MM-TTThh:mm:ss) |
Abkürzungen:
| Abkürzung | Beschreibung | Kommentar |
| --- | --- | --- |
| CND | Bedingung (condition) | |
| M | Pflicht (mandatory) | Wenn ein Parameter Pflicht ist, dann muss er vorhanden sein |
| O | optional | Wenn ein Parameter optional ist, dann kann er vorhanden sein, ist aber nicht erforderlich |
| C | bedingt (conditional) | Wenn ein Parameter bedingt ist, dann gibt es eine Bedingungsregel, die angibt, ob er Pflicht oder optional ist |
Hinweis: Bitte beachten Sie, dass die Bezeichnungen der Parameter in Groß- oder Kleinbuchstaben zurückgegeben werden können.
Aufruf der Schnittstelle zum Bearbeiten einer Blacklist
Um einen Blacklist-Eintrag über eine Server-zu-Server-Verbindung anzulegen, zu lesen, zu aktualisieren oder zu löschen, rufen Sie folgende URL auf:
Hinweis: Aus Sicherheitsgründen lehnt das Paygate alle Zahlungsanfragen mit Formatfehlern ab. Bitte übergeben Sie deshalb bei jedem Parameter den korrekten Datentyp.
Die folgende Tabelle beschreibt die verschlüsselten Übergabeparameter:
| Key | Format | CND | Description | Beschreibung |
| --- | --- | --- | --- | --- |
| | | M | MerchantID, assigned by Computop. Additionally this parameter has to be passed in plain language too. | HändlerID, die von Computop vergeben wird. Dieser Parameter ist zusätzlich auch unverschlüsselt zu übergeben. |
| Key | Format | CND | Description | Beschreibung |
| --- | --- | --- | --- | --- |
| EventToken | enum | M | Abbreviation of the action to be done: <Create>, <Read>, <Update> or <Delete> | Abkürzung der auszuführender Aktion: <Create>, <Read>, <Update> oder <Delete> |
| BlackListInfo | ans..1024 | M | Information about the blacklist entry as JSON string in the Base64 format. See table BlackListInfo below. | Information über den Blacklist-Eintrag als JSON-String im Base64-Format. Siehe Tabelle BlackListInfo unten. |
Parameter für Bearbeiten einer Blacklist
Hinweis: Das Objekt BlackListInfo wird auch in der Antwort für das EventToken Insert beim Status "Failed" mit der Fehlerbeschreibung = "Eintrag existiert bereits" zurückgegeben. Auf diese Weise erhält der Anfrager stets die eindeutige BlockID zurück, wenn er versucht, einen doppelten Eintrag hinzuzufügen.
Die folgende Tabelle beschreibt die Parameter, die das Paygate als Antwort zurückgibt:
es können jederzeit neue Parameter hinzugefügt bzw. die Reihenfolge geändert werden
die Parameter (z.B. MerchantId, RefNr) sollten nicht auf Groß-/Kleinschreibung geprüft werden
| Key | Format | CND | Description | Beschreibung |
| --- | --- | --- | --- | --- |
| | | M | MerchantID, assigned by Computop | HändlerID, die von Computop vergeben wird |
Key
Format
CND
Description
Beschreibung
Description
M

Further details in the event that payment is rejected. Please

do not

use the

Description but

the

Code

parameter for the transaction status analysis!

Nähere Beschreibung bei Ablehnung der Zahlung. Bitte nutzen Sie

nicht

den Parameter

Description, sondern Code

für die Auswertung des Transaktionsstatus!
| Key | Format | CND | Description | Beschreibung |
| --- | --- | --- | --- | --- |
| BlackListInfo | ans..1024 | C | Information about the blacklist entry as JSON string in the Base64 format, if Status=OK. See table BlackListInfo below. | Information über den Blacklist-Eintrag als JSON-String im Base64-Format, wenn Status=OK. Siehe Tabelle BlackListInfo unten. |
Antwort-Parameter für Bearbeiten einer Blacklist
BlackListInfo
Folgende Tabelle beschreibt das Objekt BlackListInfo für EventToken Insert:
Key

Format

CND

Description

Beschreibung
Category
enum
M
Category <EDD> for direct debit or <CC> for credit card
Kategorie <EDD> für Lastschrift oder <CC> für Kreditkarte
Number
ans..64
M

Credit card number/PCNr, if Category=CC

IBAN/PBAN, if Category=EDD

you also can add a German Bankleitzahl (BLZ) to blacklist by a record like this: DE00xxxxxxxx0000000000 where xxxxxxxx is the BLZ you want to blacklist. While EDD processing DE-IBAN is separated into BLZ/Konto so this BLZ will be blacklisted even if IBAN is used.

Kreditkartennummer/PCNr, wenn Category=CC

IBAN/PBAN, wenn Category=EDD

Sie können auch eine Deutsche Bankleitzahl (BLZ) auf Blacklist setzen, indem Sie eine IBAN verwenden wie: DE00xxxxxxxx0000000000 wobei xxxxxxxx die BLZ ist, welche Sie auf Blacklist setzen möchten. Während des EDD-Prozessings wird die DE-IBAN in BLZ/Kontonummer aufgesplittet, so dass diese BLZ auch bei Eingabe der IBAN gesperrt wird.

BIC
ans..32
C
BIC, if Category=EDD
BIC, wenn Category=EDD
Parameter für Bearbeiten einer Blacklist, EventToken Insert
Folgende Tabelle beschreibt das Objekt BlackListInfo für EventToken Update:
Key

Format

CND

Description

Beschreibung
BlockID
an..32
M
Unique BlockID
Eindeutige BlockID
LockActive
bool
M

Defines, if the entry should by blocked or not.

Blocked: <True>

Unlocked: <False>

Definiert, ob der Eintrag gesperrt werden soll oder nicht.

Gesperrt: <True>

Entsperrt: <False>
Parameter für Bearbeiten einer Blacklist, EventToken Update
Folgende Tabelle beschreibt das Objekt BlackListInfo für EventToken Delete:
| Key | Format | CND | Description | Beschreibung |
| --- | --- | --- | --- | --- |
| BlockID | an..32 | M | Unique BlockID | Eindeutige BlockID |
Parameter für Bearbeiten einer Blacklist, EventToken Delete
Folgende Tabelle beschreibt das Objekt BlackListInfo, das das Paygate als Antwort zurückgibt:
| Key | Format | CND | Description | Beschreibung |
| --- | --- | --- | --- | --- |
| BlockID | an..32 | M | Unique BlockID | Eindeutige BlockID |
| Key | Format | CND | Description | Beschreibung |
| --- | --- | --- | --- | --- |
| | | M | MerchantID, assigned by Computop | HändlerID, die von Computop vergeben wird |
Key

Format

CND

Description

Beschreibung

Category

enum

M

Category <EDD> for direct debit or <CC> for credit card

Kategorie <EDD> für Lastschrift oder <CC> für Kreditkarte

Number

ans..64

M

IBAN, if Category=EDD

Credit card number, if Category=CC

IBAN, wenn Category=EDD

Kreditkartennummer, wenn Category=CC

BIC

ans..32

C

BIC, if Category=EDD

BIC, wenn Category=EDD
LockActive
bool
M

Defines, if the entry should by blocked or not.

Blocked: <True>

Unlocked: <False>

Definiert, ob der Eintrag gesperrt werden soll oder nicht.

Gesperrt: <True>

Entsperrt: <False>

Created
dttm
M
Time of creation (YYYY-MM-DD hh:mm:ss)
Zeit des Anlegens (YYYY-MM-DD hh:mm:ss)
Changed
dttm
M
Time of modification (YYYY-MM-DD hh:mm:ss)
Zeit der Änderung (YYYY-MM-DD hh:mm:ss)
Antwort-Parameter für Bearbeiten einer Blacklist